Church and Youth Ministries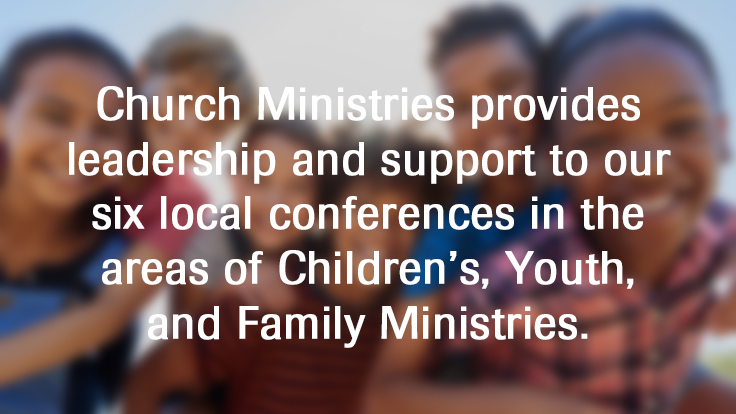 Church Ministries provides leadership and support to our six local conferences in the areas of Children's Ministries, Young Adults, Sabbath School, Small Group Ministries, Health Ministries, Personal Ministries and Evangelism, and Family Life and Recovery.
Evangelism and Small Groups
The mission of the Seventh-day Adventist Church is to share the everlasting gospel with the entire world. The most effective way to accomplish that mission is through small groups in the local church. Specific seminars and materials are provided to help pastors and small groups within the church as they share the everlasting gospel in preparation for Christ's soon return.
Family Life
Because so much of what impacts an individual's spiritual development happens as a result of family issues and needs, Family life covers a wide variety of ministries. Seminars and materials for specific needs are provided and encouraged. Such seminars include materials for singles, premarital counseling, parenting skills, and marriage enrichment.
Recovery and Spiritual Development
The good news of the gospel extends to healing the brokenhearted, binding up the wounds of those who are emotionally damaged, setting at liberty those who are held captive by addiction, and aiding those who are victims of abuse. Specific seminars and materials for individuals and families seeking recovery from abuse, emotional damage, and depression are provided.
Adventurer Club
Adventurer Club is a comprehensive ministry focused on parenting skills. The age group is seven to nine years of age. Clubs meet weekly or monthly in local churches. Awards are earned by the children and parenting skills are learned by the parents. Yearly events include special fun days and campouts organized by the local conferences.
Pathfinder Club
Pathfinder Club is the scouting ministry of the Seventh-day Adventist Church. Clubs meet weekly in local churches. Meetings incorporate earning honor badges and working on progressive class work. Camping skills are enhanced by campouts. Events, including camporees and fairs, are planned by local conferences.
Plans are underway for the 2022 Mid-America Union Camporee. For more information visit midamericacamporee.org.
Growing Young Adventists Summit
GROWING YOUNG ADVENTISTS IS an opportunity to encourage our church to love next generations well. We want to cheer, support, and resource congregations who desire the vitality of our young people and the great relationships they bring.
GYA is a learning journey for local churches and leaders helping to build faith communities that will not only survive, but thrive in the years ahead. It is an inter-generational movement nurturing relationship building and cultural transformation that embraces young people and benefits all generations in the Adventist Church.
Cheer: We celebrate great Adventist people in warm churches who are building wholesome, authentic relationships with young people. GYA loves to tell growing young stories.
Support: We nurture Adventist churches and organizations who desire to grow young with the collective experience and shared wisdom of ministry leaders, point people, and passionate volunteers. GYA is here to help.
Resource: We equip growing young communities by supplying mentoring, materials, and ministry training that help Adventists love next generations better. GYA has stuff to share.
This GYA Summit will focus on how to help our youth and young adults love and embrace their church as well as how churches can build strong intergenerational relationships. There will be plenty of time to brainstorm and discuss with your team on how to implement the principles into the context of your local church. The purpose is to have a plan to take back to your church.
Cost: $30 per person
Location: New Haven Church, 8714 Antioch Road, Overland Park, KS
Register: bit.ly/gyasummit2018
Contact Church/Youth Ministries
PREFER TO CALL?
402.484.3000
Communication
The MAUC Communication Department works to develop a positive reputation for the Seventh-day Adventist Church among members and communities in the Mid-America region. We strive to create a compelling and comprehensive awareness of how members, leaders and institutions are fulfilling the gospel calling of the Adventist Church throughout our nine-state territory. The goal of this communication is to build on the sense of ownership among our constituents that inspires personal commitment and enthusiastic participation.
OUTLOOK magazine is the signature product of Mid-America's Communication Department. In addition to reporting news, OUTLOOK shares inspiration through editorials and stories from leaders and members who are making a difference. Our digital edition, OUTLOOK Online, features exclusive content including photos, videos, articles and blogs. In addition, myOUTLOOK newsletter is a weekly email update on happenings in our territory and beyond.
Exciting opportunities continue to emerge in social media and other areas of the digital world and we are continually seeking to further develop our online presence. We also support and encourage conferences and local congregations in maximizing their potential for sharing the vision of their leadership, building community among members, and optimizing opportunities with their local media.
Contact Communication
PREFER TO CALL?
402.484.3012
Education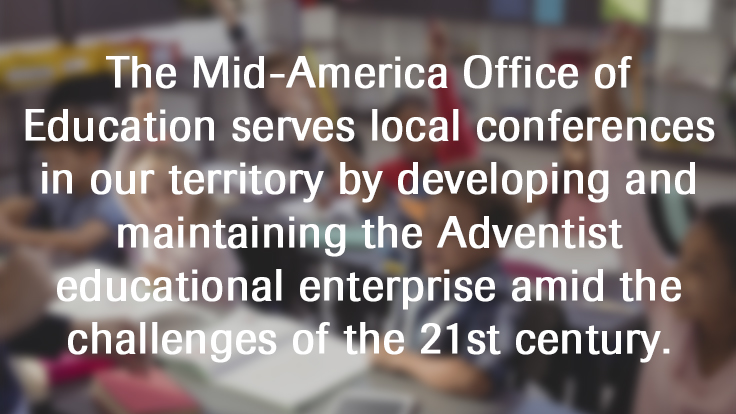 The Mid-America Office of Education serves local conferences in our territory by developing and maintaining the Adventist educational enterprise amid the challenges of the 21st century. The teacher is the hub on which the wheel of Adventist education turns. Each year the academic records of 375 elementary and secondary teachers are submitted to this office for review of their certification status and assistance where needed. We also provide administrative support for local conference superintendents and academy principals.
Looking beyond the basic operations of the educational system, the Union office cultivates the development of new schools while sustaining the vision of existing schools. It is a continual challenge to ensure that everything about our schools harmonizes with the mission of Adventist education.
As we look to the future, the MAUC educational office is proposing a commission to study how Adventist education can best meet the needs of Mid-America's young people. Armed with that information, they will optimize the marketing of Christian education by local churches, schools and conferences—not only to our own members but to the community at large. This will maximize the evangelistic potential of Christian education. Another benefit is increased enrollment, which will strengthen the financial picture. The ultimate goal is securing the future of our schools so they can continue to equip and empower young people to take their place in our church family as soul-winners and disciple-makers.
LouAnn Howard is director of the office of education and serves as associate for elementary education and curriculum. Gerard Bann serves as associate director. Support staff for the department include registrar Kristi Griffith and office administrative assistant Barb Engquist.
Education Resources
Contact Education
PREFER TO CALL?
402.484.3013
Hispanic Ministries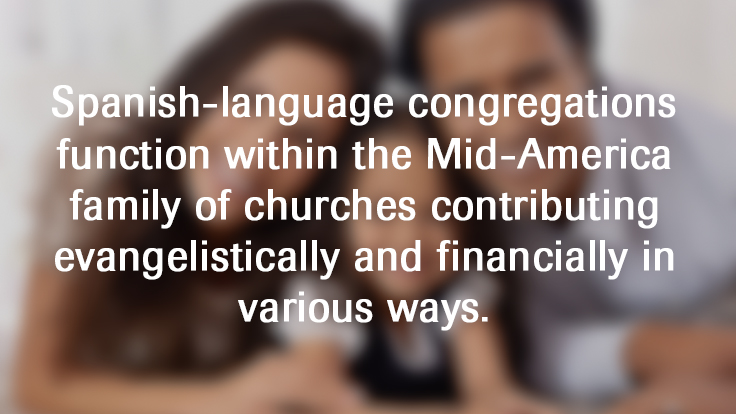 A vital and vibrant part of the Mid-America Adventist family is our Hispanic membership. Spanish-speaking congregations function within the family of churches in the various local conferences, contributing evangelistically and financially in many ways.
Contact Hispanic Ministries
PREFER TO CALL?
402.484.3000
Human Resources
The MAUC Human Resources Department affirms its commitment to the Gospel Commission and Strengthening God's work by providing professional services to administrators and staff. A high priority of MAUC HR is to assist in creating effective policies, practices and a mutually acceptable alliance between the Mid-America Union Conference and those who work within the organization. We also strive to be a resource to our Conferences.
The presentation prior to roll-out of the NAD Healthcare Assistance plans, held September 18, 2017 in Lincoln, Nebraska:
Contact Human Resources
PREFER TO CALL?
402.484.3002
Ministerial
The ministerial department's primary mission is to enhance the ministry of pastors in Mid-America by coordinating, equipping, supporting, and empowering local conference ministerial directors in their professional and personal lives as they, in turn, care for the pastors in their individual conferences.
Among the services we make available:
Host a collegial information sharing network for ministerial directors of our six constituent conferences.
Provide or highlight resources to local conference ministerial directors that enable pastoral professional growth and spiritual activity
Plan and host pastors conventions in Mid-America
Accept speaking appointments for pastors' meetings, camp meetings, special church weekends, and church worship services
Assistance in strategic planning and creating functional structures for congregations upon request
Encourage participation in field-based education programs such as the Master of Pastoral Ministry program from Andrews University to refine and hone the skills of our pastoral ranks and establish professional parity across our field
Conduct continuing education opportunities around the union as requested by MAUC and local conference administrations
Provide pastoral leadership coaching upon request
Plan and host retreats and workshops for specific pastoral groups as requested by MAUC and local conference administrations
Contact Ministerial
PREFER TO CALL?
402.484.3000
Religious Liberty
On average, 15 Seventh-day Adventists in North America lose their jobs each week for choosing to keep the Sabbath. Led by attorney Darrel Huenergardt, the Mid-America Union religious liberty service is working hard to support local pastors and conference religious liberty leaders in defending the rights of Sabbath keepers in the workplace. Huenergardt also supports members with other issues that concern religious freedom while maintaining friendships with those not of our faith who share a common commitment to religious liberty.
Contact Religious Liberty
PREFER TO CALL?
402.904.5161
Treasury/Planned Giving and Trust Services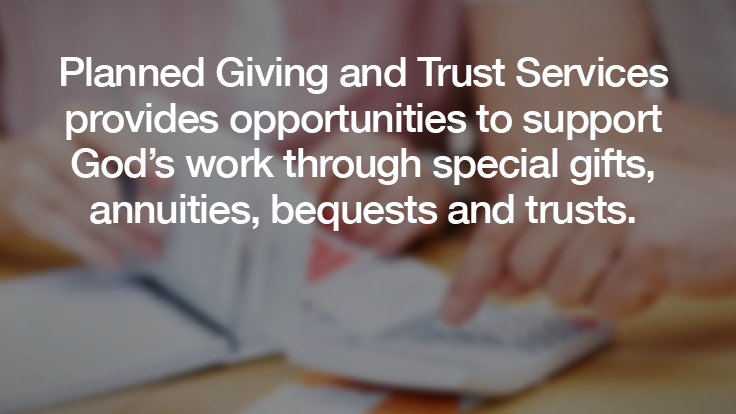 Planned Giving and Trust Services provides opportunities to support God's work through special gifts, annuities, bequests and trusts. These expressions of generosity promote the spiritual dimension of Christian stewardship particularly relating to planning one's estate. It is our pleasure to serve the members of the Mid-America Union in this regard, and we consider it extremely important to ensure that funds you entrust to our care are processed according to the highest professional and spiritual standards.
Many generous members have built and supported the churches throughout Mid-America. You have generously supported the educational ministries. You have given time and means for evangelism. You have built our youth camps. You have ministered in innumerable ways in your communities. Your giving has breathed life into the church. The sharing of your blessings has been far-reaching.
Planned giving has several components. It is a part of building financial security. It can provide protection for your loved ones. It can help you continue to give to sustain the causes you love. It isn't just for the wealthy. It isn't just for seniors.
Some people procrastinate about making or updating a will because they are having a hard time deciding where to leave their money. Some people think it costs too much to make a will. Some people just don't want to think about their mortality. A will is a way to be sure that your property will go where you want, rather than the state making that decision for you. A will lets you choose someone to settle your estate and lets you choose who will care for your dependent children. A will lets you share your blessings to support the people and the causes you care about.
The ways you give may relate to where you are in your life cycle. Depending on your goals there are many ways to give and receive benefits at the same time. Here are just a few:
You can make a gift to the church program you care about by simply writing a check now, getting an income tax deduction and seeing the immediate impact.
By gifting long-term appreciated stock or other securities to a charity, you may avoid tax on capital gains and take advantage of a charitable deduction as well.
A charitable gift annuity lets you further the work of the church while you receive lifetime payments that may be partially tax free. The amount you place in the gift annuity and your age at the time the annuity is created determine the size of the fixed payments to you or another person.
You can name the church as the beneficiary of the remainder of the IRA assets after your lifetime if you have other assets to leave to your family that might carry less tax liability to your family.
Present or future gifts of cash, securities or property to family members, friends, your church or other charitable organizations can be given in many ways that may have tax advantages as well.
You can simplify your giving with a Donor Advised Fund. When you establish a Donor Advised Fund with your conference, you make a tax-deductible gift of cash or other assets. The gift is invested and managed by the conference. You are eligible to receive a charitable tax-deduction for the year that you make your gift. Later on, you advise the conference how you would like those funds to be used.
With any potential gift you should consult your qualified professional legal and/or tax advisors. Planned Giving and Trust Services personnel in your conference are there to help you.
Learn how your gifts can benefit the work of the church and you as well
Contact Treasury/Planned Giving and Trust Services
PREFER TO CALL?
402.484.3006
Women's Ministries
The purpose of the Women's Ministries Department is to intentionally encourage women and provide resources and training opportunities for ministry.
We want to inspire each woman to daily walk with Jesus. We want them to be equipped, encouraged, and especially nurtured. We want our women to use the talents God has given each of them and to be the woman they were created to be. We envision an active ministry for every woman because Women's Ministries is not only about service to the women within the church but to the women in the community, as well.
Personal growth is an important element of ministry to women. We want to provide opportunities for women to grow by offering training seminars, leadership certification events to encourage women toward involvement in small church ministries, evangelism, Bible study groups, public speaking and community involvement. We love to invite women into the Seventh-day Adventist Church; nothing thrills us more. However, our ultimate goal is for every woman to have an intimate relationship with Jesus—to know Him as her best friend.
Contact Women's Ministries
PREFER TO CALL?
402.328.0042